Where I've been/CyberSing 2008
It's been a long time since I've posted. I've been working very hard on my various writings for children. I'm putting finishing touches on the ninth (!) of my picture books, and am on the fourth chapter of a hard-hitting young adult novel. :-)
And I did a recital at KHPR, the Public Radio Station in Honolulu (the tan has already fated from my pasty-white skin) and I am really excited about my latest performance effort: an evening of songs by Edith Piaf. Sounds weird, but believe me, it seems to work. I've tried a few out on three different audiences now, and the response has been tremendous.
But enough about me. I did want to post this information about CyberSing, the Lotte Lehmann Foundation's art song performance vocal competition. I'm not the publicist for the Foundation, but I am the vice president of the Board of Directors, and I'm dedicated to getting the word out (ever the proselytizing minister's son!)
In the meantime, sending all the best to my sometime readers. I do promise to get back on the blog bandwagon ere too long. There are so many great singers I'm eager to share with you. Just lately: Janine Micheau, Galina Vishnevskaya, Berta Kiurina, Rosanna Carteri, Hugo Hasslo, Francesco Merli... ah, the list goes on and on!
But for now, here's the press release: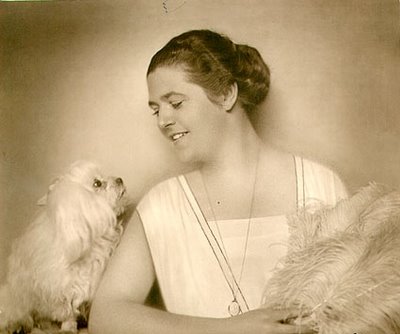 The
Lotte Lehmann Foundation
has released the new rules, regulations, and dates for CyberSing 2008, its fourth biannual art song performance competition.
The stated objective of CyberSing is "[t]o recognize and award performance of art song by singers and pianists throughout the world."
Entrants to the competition may enter in one of two Divisions: Division One, for singers 23 years of age and younger, and Division Two for singers over the age of 23. Prizes will include a Top Prize of $1,000 for the Division One winner, and a Top Prize of $5,000 for the Division Two winner. Prizes for best individual song performances will also be awarded in each Division.
Singers of both divisions will submit audio recordings of a range of art song repertoire, including German and French art song, a required song composed expressly for CyberSing by Larry Alan Smith, which is available for download exclusively at the CyberSing website.
In past competitions, entrants were judged exclusively on their submitted audio recordings of a prescribed art song repertoire. This year, for the first time, finalists will be requested to submit a performance DVD. The final round will be judged exclusively on these submitted DVD recordings.
The Foundation is accepting applications now through August 31, 2008. Finalists will be chosen by October 15, 2008, with a November 15, 2008 submission deadline for finalists' DVD recordings. The winners will be announced on or before January 31, 2009.
Daniel Gundlach, the vice president of the Foundation's Board of Directors stated, "CyberSing has always been a crucial element of the Lotte Lehmann Foundation's activities. We are all thrilled with the new parameters of the competition, which will enable the judges to more completely and accurately evaluate the performances of the participants."
Repertoire requirements and complete rules and regulations for the competition, as well as application forms, are available on the Foundation's website:
www.lottelehmann.org
or at
www.cybersing.org
.
Labels: art song, berta kiurina, children's books, cybersing, khpr, larry alan smith, lotte lehmann, lotte lehmann foundation, public radio, vocal competitions, young adult novels